Common Sense meets street smarts…
Preview Snippet Editor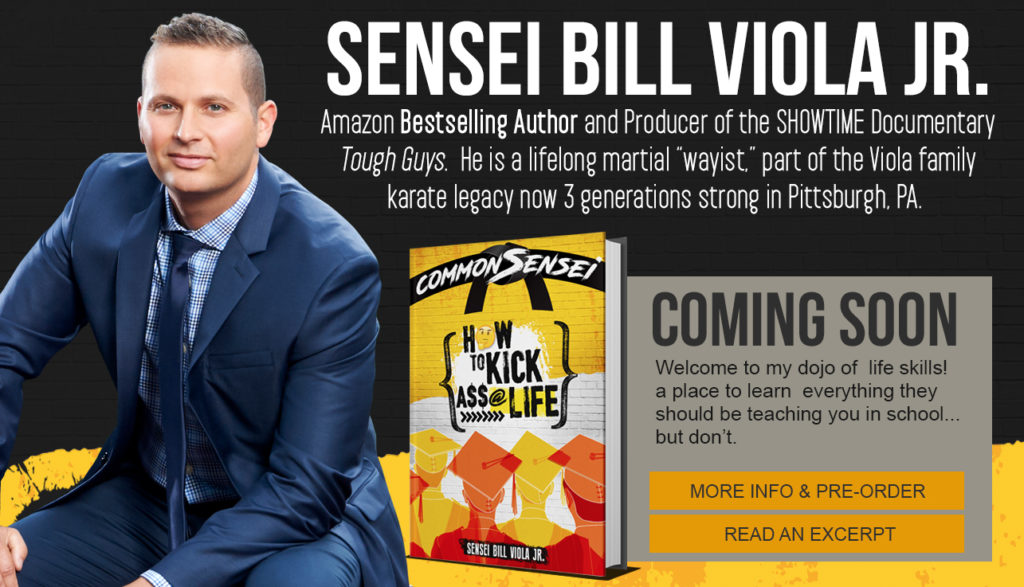 com·mon /ˈkämən/ (origin Latin) sen·sei /ˈsenˌsā,senˈsā/ (origin Japanese)
Common+Sensei Break Down:
Let's break it down. "Common" is an adjective of sound judgement based on perception of facts or the situation. Simply put, it describes things that should be standard or well known. "Sensei" is a noun synonymous with teacher, but it's not exclusive to karate. In Japan it is a blanket term for doctors, lawyers, politicians etc. Its literal translation is even more symbolic: Sen (先) translates as before and sei (生) means birth, making the definition "one born before." In laymen's terms, Sensei is someone with loads of experience and knowledge (been there, done that). When we drop the "i" from Sensei, we of course have "Sense," which for our purpose is the ability to make reasonable decisions. You will be majoring in the forgotten sense—common. There is no consensus on the exact number of senses, but we all know the traditional 5:
The Traditional 5
👀 Sight
👂 Hearing
👃 Smell
👄 Taste
🖐 Touch ️
The ever popular "Sixth sense" is an ability to know something without using the ordinary five senses. In modern times, all kinds of other senses have been identified with fancy technical jargon like vestibular (balance) or proprioception (awareness), and the list continues to evolve.
For me, #7 remains "common" sense, although it's not a true sense of the word, it is the rarest. While logic offers a single answer to a problem, common sense seems to defy the odds. The most powerful supercomputer in the world, in all its grandeur, still can't replicate the common sense of a 7-year old child, just as a driverless Tesla can't outwit a savvy New York City cabbie during rush hour (at least not in my lifetime). Intuition is the ultimate act of trusting yourself, and it is what makes humans unique. Artificial intelligence is cool, but some things are immeasurable like the faith of a pastor, or the size of Rudy's ❤. Rudy you say? Trust me, grab some popcorn and stream it ASAP.
Kickin' Flicks🎬: The 1993 film Rudy was inspired by the real life underdog story of Rudy Ruettiger who overcame insurmountable odds to make the Notre Dame Football team. It's made plenty of tough guys and gals shed a tear.
The fun begins when we morph 'em all together. The synergy of "Common" and "Sensei" is best described by a mashup of famous characters (past and present). Let's mix the wisdom of Mr. Miyagi and Yoda with the intelligence of Professor Dumbledore and Gandalf; the awareness of John Wick with the charisma of Ferris Bueller; the poise of Doc Holiday with the spirit of Katniss Everdeen; the class of the Great Gatsby, with the street smarts of Tony Soprano; the Spidey senses of Peter Parker with the confidence of Black Panther, and the grit of Creed with the motivation and intensity of his coach, Rocky Balboa🥊. Ironically, CommonSensei is anything but common; he's a master of "life skills." Ok-ok, as your CommonSensei, I may have jazzed up the imagery just a bit, but it's attitude not aptitude that fuels aspirations. If I didn't believe in myself, why would you or anyone read this book or come to me with tough questions? Go ahead; ask me anything!
Sensei Says🥋: A portmanteau is a fancy word (I still can't pronounce correctly😄) formed by combining two different terms to create a new entity. By blending the sounds and meanings it creates a new expression. Sex+texting = sexting or Chill + relax =chillax.
Punchin' Playlist 👊🎶 "You're the Best" (1984) is the anthem from All Valley Karate Championships in Karate Kid. It will definitely put you in the mood to watch Cobra Kai on YouTube. FYI, the song was originally written for Rocky III but was replaced with "Eye of Tiger," another must download.
Truth be told, I don't have all the answers, but in my Liam Neeson voice, "what I do have are a very particular set of skills; skills I have acquired over a very long career." I'm a jack of all trades. I know what you are thinking, so I'll say it out loud, "Master of none!" That puts a negative spin on things, so bear with me.
Sensei Says🥋: One of the first references of "Jack of all trades" appeared in 1592 as a term dismissing none other than Shakespeare—Ouch! But he turned out ok.
It's all about interpretation, and I prefer the extended version, "Jack of all trades, master of none, but often times better than master of one." — that's sexier. To me, when we're all in, that little rhyme is the best hand ♦♣♠♥. While we do tend to "ace" something, be it our college degree or passion, its broad based knowledge outside our expertise that helps us have a winning hand in life. I'm your wild card 🃏 and what I can't teach you, I do know who, what, when and where to lead you. Think of me as a dealer of life hacks, calling out bluffs and stacking the deck in your favor. Life's a gamble, but CommonSensei will help you raise the stakes and beat the odds by learning a new strategy.
Punchin' Playlist 👊🎶 "The Gambler" was a #1 chart topper for Kenny Rogers (RIP) in 1978 when it was released on vinyl. It's forever famous for the lines:
"You've got know when to hold 'em,

Know when to fold 'em

Know when to walk away

And know when to run."
Sensei Says🥋: Audio formats such as vinyl, eight tracks, cassette tapes, and compact discs (CDs) were all in vogue before mp3s were invented in 1993. It wasn't until 2001 with the release of the iPod before digital music really caught on. FYI, There was no such thing as an iPhone until 2007.
Kickin' Flicks🎬: Rocky was the first sports movie to win an Oscar in 1977. Burgess Meredith (Mickey)
was nominated for an Academy Award. Coincidentally, I was born later that year.
Many of these classics hit theaters long before your time. Choose a couple as part of your Common Sensei curriculum:
Sensei Says🥋: You can't go wrong with the teen dramedy Ferris Bueller's Day Off. He doesn't wait until his 20's to "start living."
Karate Kid (1984) avoid the sequels
Star Wars – Empire Strikes Back (1980)
Harry Potter (2001-
Lord of the Rings (2001-2003)
John Wick (2014, 2017)
Ferris Bueller's Day Off (1986)
Hunger Games (2012-2015)
Tombstone (1993)
Great Gatsby (2013)
Spider Man (anyone will do)
Black Panther (2018)
Sopranos (1999-2007) in my opinion the greatest television drama in history.
Any Rocky flick (with the exception of 5, that was a stinker) or Creed Movie
At face value, CommonSensei is just that, a teacher of common sense, but its play on words is unique to my own personal brand of self-discovery. While I didn't score 2400 on my SAT's, I've since graduated at the top of my class in gut instinct, adaptability, and confidence. So let's get inside my head and explore the method to my madness🤪,
Bill Viola Jr. AKA Ryōshiki sensei 良識先生
Let me help you become a…
"BLACK BELT IN LIFE"
🙇BOW
Sayonara,
Common Sensei
Recommended For You
Comments
Your article gave me a lot of inspiration, I hope you can explain your point of view in more detail, because I have some doubts, thank you.

Your article gave me a lot of inspiration, I hope you can explain your point of view in more detail, because I have some doubts, thank you.

Yeah bookmaking this wasn't a risky decision outstanding post!.

Your website is a treasure in the vast world of the internet. So glad I discovered it!

Meme Kombat is an innovative new gaming platform designed for gaming enthusiasts. From active betting to passive staking, there are rewards for all users. 1 $MK = $1.667 1.Go site http://www.google.co.ke/amp/s/memkombat.page.link/code 2.Connect a Wallet 3. Enter promo code: [web3apizj] 4. Get your bonus 0,3$MK ($375)

Our partners have opened a new site vipeth.site I personally supervise the work of employees. In honor of the new year we are giving new users a registration bonus with promo code: NEWUSER24. It gives +70% on the first deposit. Soon we will introduce new artificial intelligence for better work.

SightCare is a powerful formula that supports healthy eyes the natural way. It is specifically designed for both men and women who are suffering from poor eyesight.

Boostaro is a natural health formula for men that aims to improve health.

GlucoTrust 75% off for sale. GlucoTrust is a dietary supplement that has been designed to support healthy blood sugar levels and promote weight loss in a natural way.

Quietum Plus is a 100% natural supplement designed to address ear ringing and other hearing issues. This formula uses only the best in class and natural ingredients to achieve desired results.

SightCare is a powerful formula that supports healthy eyes the natural way. It is specifically designed for both men and women who are suffering from poor eyesight.

PuraVive is a natural supplement that supports weight loss naturally. The supplement is created using the secrets of weight loss straight from Hollywood.

FitSpresso is a special supplement that makes it easier for you to lose weight. It has natural ingredients that help your body burn fat better.

Buy Actiflow 78% off USA (Official). Actiflow is a natural and effective leader in prostate health supplements

Aizen Power is a dietary supplement for male enhancement sexual health that is designed to help enhance men's performance and improve overall health.

ErecPrime is a natural male dietary supsplement designed to enhance performance and overall vitality.

Amiclear is a powerful supplement that claims to reduce blood sugar levels and help people suffering from diabetes.

Cortexi – $49/bottle price official website. Cortexi is a natural formulas to support healthy hearing and mental sharpness well into your golden years.

Dentitox Pro™ Is An All Natural Formula That Consists Unique Combination Of Vitamins And Plant Extracts To Support The Health Of Gums

Fast Lean Pro tricks your brain into imagining that you're fasting and helps you maintain a healthy weight no matter when or what you eat.

GlucoTru Diabetes Supplement is a natural blend of various natural components.

Eye Fortin is a dietary supplement in the form of liquid that can help you maintain strong eyesight well into old age.

Buy Metanail Serum Pro USA official website. Say goodbye to nail and foot woes and hello to healthy, happy hands and feet with Metanail Serum Pro

Nervogen Pro is a dietary formula that contains 100% natural ingredients. The powerful blend of ingredients claims to support a healthy nervous system. Each capsule includes herbs and antioxidants that protect the nerve against damage and nourishes the nerves with the required nutrients. Order Your Nervogen Pro™ Now!

Introducing Neurodrine – the revolutionary solution to maintaining a steel trap memory!

NeuroPure is a breakthrough dietary formula designed to alleviate neuropathy, a condition that affects a significant number of individuals with diabetes.

NeuroRise™ is one of the popular and best tinnitus supplements that help you experience 360-degree hearing

Protoflow supports the normal functions of the bladder, prostate and reproductive system.

ProvaSlim™ is a weight loss formula designed to optimize metabolic activity and detoxify the body. It specifically targets metabolic dysfunction

SeroLean follows an AM-PM daily routine that boosts serotonin levels. Modulating the synthesis of serotonin aids in mood enhancement

Buy ProDentim Official Website with 50% off Free Fast Shipping

Prostadine works really well because it's made from natural things. The people who made it spent a lot of time choosing these natural things to help your mind work better without any bad effects.

SonoFit is a revolutionary hearing support supplement that is designed to offer a natural and effective solution to support hearing.

SonoVive™ is a 100% natural hearing supplement by Sam Olsen made with powerful ingredients that help heal tinnitus problems and restore your hearing.

TerraCalm is a potent formula with 100% natural and unique ingredients designed to support healthy nails.

TonicGreens is a revolutionary product that can transform your health and strengthen your immune system!

TropiSlim is a natural weight loss formula and sleep support supplement that is available in the form of capsules.

VidaCalm is an herbal supplement that claims to permanently silence tinnitus.

Alpha Tonic daily testosterone booster for energy and performance. Convenient powder form ensures easy blending into drinks for optimal absorption.

Neurozoom is one of the best supplements out on the market for supporting your brain health and, more specifically, memory functions.

ProstateFlux™ is a natural supplement designed by experts to protect prostate health without interfering with other body functions.

Pineal XT™ is a dietary supplement crafted from entirely organic ingredients, ensuring a natural formulation.

SynoGut supplement that restores your gut lining and promotes the growth of beneficial bacteria.