CommonSensei – Life skills, Life Hacks, Life Lessons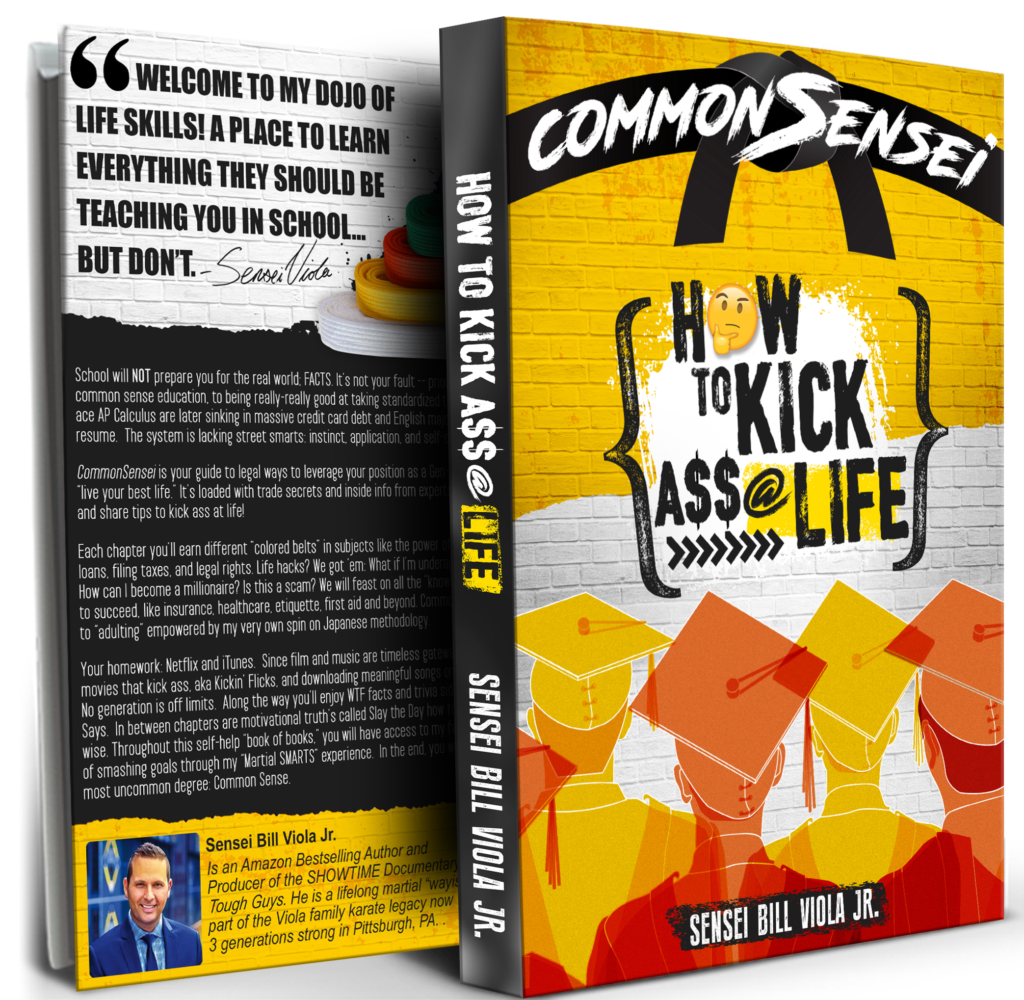 Real Talk from your very own Common Sensei:
School will NOT prepare you for the real world; FACTS⚠️. It's not your fault — priorities have shifted from common sense education, to being really-really good at taking standardized tests😠. The same kids who ace AP Calculus are later sinking in massive credit card debt and English majors can't draft a decent resume.  The system is lacking street smarts: instinct, application, and self-confidence.
CommonSensei is your guide to 💯% legal ways to leverage your position as a Gen-Z student to "live your best life." It's loaded with trade secrets and inside info from experts who go off the record and share tips to kick ass at life! 
Each chapter you'll earn different "colored belts" in subjects like the power of positive thinking, student loans, filing taxes, and legal rights.
Life hacks? We got 'em: What if I'm underage and the party is busted🍺? How can I become a millionaire🤑? Is this a scam🤔? We will feast on all the "knowledge-nuggets" you need to succeed, like insurance, healthcare, etiquette, first aid and beyond. CommonSensei is a NO BS 💩 approach to "adulting" empowered by my very own spin on Japanese methodology.    
Your homework: Netflix and iTunes 📝😀.  Since film and music are timeless gateways, you will be streaming movies that kick ass aka Kickin' Flicks 🎬 and downloading meaningful songs 🎶 on the Punchin' Playlist👊. No generation is off limits.  Along the way you'll enjoy WTF facts and trivia side notes duly named Sensei Says🥋.  In between chapters are motivational truth 💣's called Slay the Day⚔: how to live healthy, wealthy, and wise. Throughout this self-help "book of books," you will have access to my family's 50-year-old formula of smashing🔨goals through my "Martial SMARTS" experience.  In the end, you will earn a black belt in the most uncommon degree🎓: Common Sense.   
Welcome to my dojo of life skills, a place to learn everything they should be teaching you in school but don't, from a legit Sensei of "The Way." 
Sensei Says🥋:  A dojo literally means "place of the way," not karate school 😉. Dō (道) is pronounced like cookie "dough."  This book shares my "dō," or "Violosophy."
Punchin' Playlist👊: Let's set the tone with "Best Life," by Cardi B.  Chance the Rapper hits us with the intro, "I'm living' my best life / Made a couple Ms with my best friends / Turned all my Ls into lessons." FYI:  Instagram has over 2 million #liveyourbestlife tags and a quick Google search reveals over 10 billion hits in 0.47 seconds. It's about "your" movement: Your values, your goals, and your destiny. BE YOU! DO YOU! FOR YOU!
🙈😆😂🎬🤑🤯🤬💩❤💯💥💣👌👉👈👆👇🙌🙏🤳💪👣🦊🦄🍎🥠‍🎓🍺🌟🏆🥇🎲🃏♦♣♠♥🔊💵⚖💊⚠✔㊗🏁🥋🥊🤣😉🤔😱😓👊💩😭👅😇🤩😜🤒🙉👋👍👎👏⛩🤐👣
Sensei Says🥋: Emoji (絵文字) will be used throughout the book to add a dash of personality and emotion to my thoughts. Emoji is actually a Japanese creation meaning "picture."